Evaluation equipment of mechanical properties and residual stress using IIT at Micro-scale
Mechanical Properties Test Micro-AIS evaluate tensile properties and residual stresses of the test subjects of very small dimensions (Micrometers), such as fine-welded parts and coated layers.
Through the Vision system automatic stages, the test position can be identified and designated. Moreover, precision test for major parts is made available through automatic and screening tests.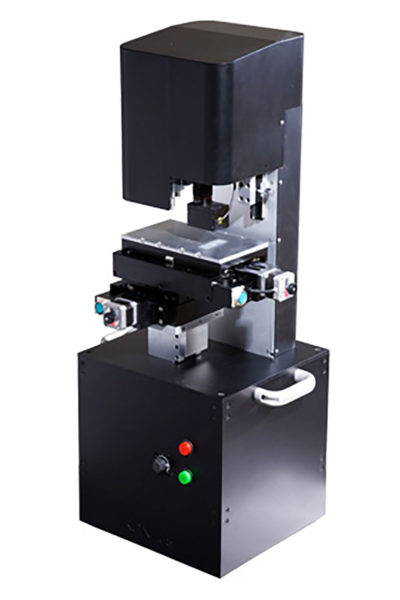 Model
Micro AIS
Size (Weight)
13 x 12 x 35 inch (280 lbs)
Maximum load
4.3 lbf
Resolutions
(Load/Depth)
0.03 gf / 0.01 um
Full stroke
1 inch
Loading rate
0.1 ~ 20 mm/min
Communication
RS-422 (USB)
Data Acquisition rate
100 points/sec
Power
AC 110 ~ 220V
Analyzing computer
Desktop
Indenter
Micro Vickers Indenter
Feature
Non-destructive Residual Stress evaluation for Micro scale material
Laboratory type IIT system (Automatic test module)
Non-contact displacement sensor and work space efficiency
High resolution vision(Max zoom: X1200)
Manual operation for Vertical Z-Axis stage moving
High quality anti-dust system
Uninterruptable power supply(option)
Adoptable to Temperature chamber tester(option: -150℃ ~ 1000℃)
Residual stress software based on the theory of IIT (Instrumented Indentation Technique)
Possible to measure and analyze in real time by using a desktop
Possible to load All-in-one software (Tensile properties, fracture toughness software)
One-click automatic test (Full automatic software) and adopting software to change a testing location automatically.
Embed auto Multi-mapping, selecting, image test modules
Possible to perform all of things such as testing, analyzing , collecting DB and making a report with one software.
Embed functions such as auto-malfunctioning and error data check.
Possible to apply a high & low temperature chamber system and embed checking software. (when embedding a high & low temperature chamber system)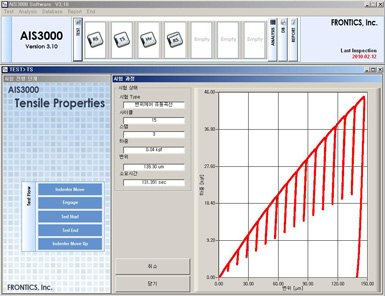 Product & Application Gallery