Non-destructive equipment for auto and repeated test
New laboratory type model. AIT-U (Advanced Indentation System –U) is dedicated test equipment to measure tensile properties and Vickers hardness in the laboratories.
Full automatic test function and self-inspection system are included for easy operation. Indentation module and Control PC are attached to the equipment to allow user to install in a limited space.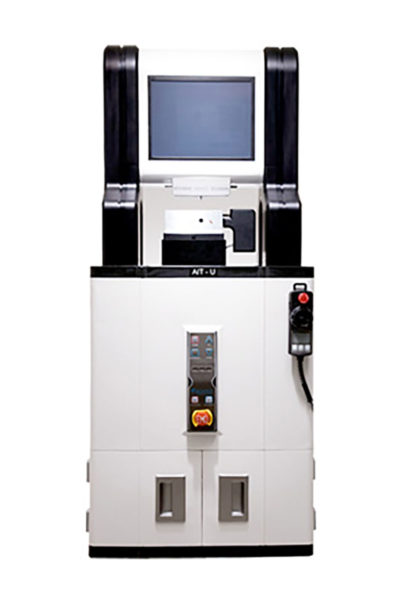 Model
AIT-U
Size (Weight)
24 x 20 x 55 inch (480 lbs)
Maximum load
430 lbf
Resolutions
(Load/Depth)
5.6 gf / 0.1 um
Full stroke
1.6 inch
Loading rate
0.05 ~ 20 mm/min
Communication
RS-422 (USB)
Data Acquisition rate
100 points/sec
Power
AC 110 ~ 220V
Analyzing computer
Integrative model combining equipment and control PC
Indenter
Spherical Indenter (WC) Dia. 0.5 / 1.0 mm
Feature
Non-destructive Tensile properties evaluation
Laboratory type IIT system (Automatic test module)
LCD Touch Panel(outer input device attachable for requirements)
Laser distance measurement
Self calibration
LED lightning
Automatic Moving System
Jog Shuttle function for remote control and 3-Axis stage operation
Conventional Workstation with storage space
Tensile properties software based on the theory of IIT (Instrumented Indentation Technique) - evaluation items : yield strength, tensile strength, work-hardening exponent, elastic modulus
Realize real-time measuring system such as existed AIS series.
One-click automatic test (Full automatic software) and adopting software to change a testing location automatically.
Embed a auto-mapping test module
Possible to use independent AIT-U software suitable for operating all-in-one touch panel.
Software adopted with touch-screen method and possible to use AIT-U software with consisted of a existed external input device.
Adopt self-inspection software of IIT system.
Possible to control 3-axis stage automatically by using multi-function key of the software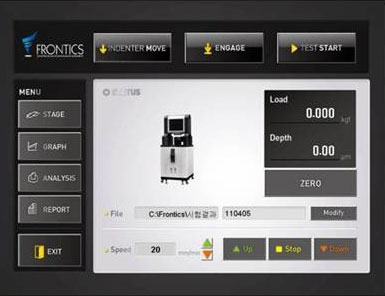 Product & Application Gallery