Lightweight equipment for tensile properties and residual stress
Portable Test Equipment AIS Compact is designed for on-site application with its maximized portability based on AIS3000 model. AIS Compact features 50% less weight and size with enhanced its functionality for easy
measurement of residual stress and tensile properties on-site. When the wireless communication module, tablet-pc and light weight battery are used, test can be performed in small space with no power supply.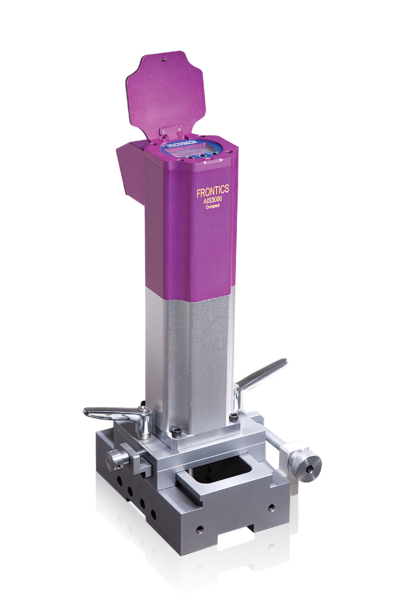 Model
AIS3000 Compact
Size (Weight)
3 x 3 x 12 inch (8 lbs)
Maximum load
220 lbf
Resolutions
(Load/Depth)
2.5 gf / 0.1 um
Full stroke
1 inch
Loading rate
0.05 ~ 20 mm/min
Communication
RS-422 (USB) / Wireless
Data Acquisition rate
100 points/sec
Power
AC 110 ~ 220V
Battery
2 Hrs in a charge
Analyzing computer
Rugged laptop
Indenter
Spherical Indenter (WC) Dia. 0.5 / 1.0 mm
Vickers Indenter
Feature
Non-destructive Residual Stress and Tensile properties evaluation
Tensile properties inspection device mounted
Highly mobile portable inspector (Embeded Interface device)
Safe load program
Vertical motion limit sensor
UMPC included
Custom-made available / Option: Sub-miniature type (H:22cm, W: 3.5kg)
Tensile properties and Residual stress software based on the theory of IIT (Instrumented Indentation Technique)
Possible to measure and analyze in real time by using a laptop or UMPC
Possible to load All-in-one software (hardness, fracture toughness software)
Possible to use AIS3000 mini software suitable for UMPC.
Software adopted with touch-screen method and possible to use AIS3000 software with consisted of a existed external input device.
Possible to add analyzing module and customize software by user's requests
Include a function for the beginner in order to control a testing flow.
AIS3000 Mini software for working it easily in-situ.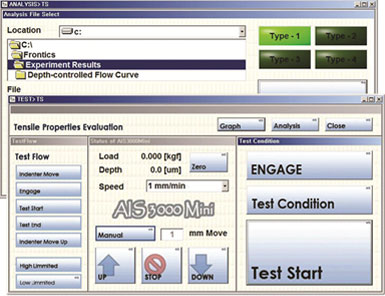 Product & Application Gallery