Non-destructive equipment for residual stress
Residual Stress Test AIS3000 (Advanced Indentation System 3000) is portable indentation system for non-destructive residual stress evaluation. Residual stress in a material shifts the indentation load-depth curve. The load-depth curve shifts to right or left side when tensile or compressive residual stress is applied, respectively. The lower load is needed to reach the same depth when the tensile residual stress is applied, and the higher load when compressive residual stress Therefore, AIS3000 can measure quantitative values for residual stress if it know the relationship between the load gap and residual stress.
Residual Stress Test AIS3000 is made up of a main body and a laptop with software. The AIS3000 can help users perform fast and easy tests with wireless communication module between the laptop and main body. And it is light and miniaturized for easy and fast transportation and installation. Especially, changes in residual stress such as weldment/HAZ/base metal and local material degradation can be analyzed immediately by the superposition of the obtained curves.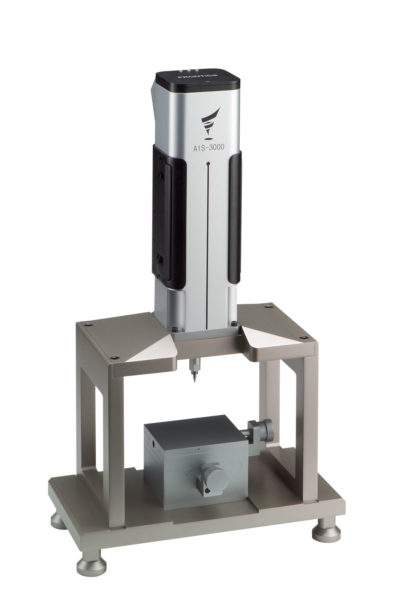 Model
AIS3000
Size (Weight)
7 x 7 x 17 inch (15lbs)
Maximum load
650 lbf
Resolutions
(Load/Depth)
5.6 gf / 0.1 um
Full stroke
1.6 inch
Loading rate
0.05 ~ 20 mm/min
Communication
RS-422 (USB) / Wireless
Data Acquisition rate
100 points/sec
Power
AC 110 ~ 220V
Battery
2 Hrs in a charge
Analyzing computer
Rugged laptop
Indenter
Spherical Indenter (WC) Dia. 0.5 / 1.0 mm
Vickers Indenter
Feature
Non-destructive Residual Stress evaluation
Highly mobile portable inspector (Embeded Interface device)
Safe load program
Vertical motion limit sensor
All-in-one multi-function system structure (Max load: 300kg)
High-accuracy displacement / load sensor
Lightweight portable battery for extra power supply
Adoptable to Temperature chamber tester(option: -165℃ ~ 650℃)
Residual stress software based on the theory of IIT (Instrumented Indentation Technique)
Possible to measure and analyze in real time by using a laptop
Possible to load All-in-one software (hardness, fracture toughness software)
Possible to perform all of things such as testing, analyzing , collecting DB and making a report with one software.
Improve accessibility of the novice user through minimizing of testing operations (Offer guideline for a testing process)
Possible to compare and analyze data in real time, after getting data tested by AIS3000
Embed functions such as auto-malfunctioning and error data check.
Possible to add analyzing module and customize software by user's requests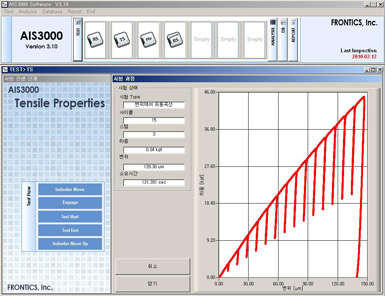 Product & Application Gallery